Family Activities for Lent and Easter

Make Mosaic Crosses



To help your child focus on the Prayer aspect of our Lenten observation and devotions in anticipation of the Easter season, make a family mosaic cross.

Two types of crosses can be made:

* Fun Foam Cross - Using art foam, cut out a basic cross shape for the background. Then, using other colors of art foam (available at any craft or discount store), cut smaller pieces of "mosaic" and apply them to the cross background to create an overall mosaic effect. A fun variation of this project might be to make the cross background, and then apply small "mosaic" tiles when the child is observed being helpful, loving, or of service around the home. Can your child fill the cross with love "tiles" by the end of Lent?

* Crayon "Stained Glass" Cross - Have your child cut two identical cross shapes from waxed paper. Using old or broken crayons and a dull kitchen knife, scrape the crayons to create shavings of various colors. Spread the crayons on one of the pieces of waxed paper in a desired pattern. Then place the second waxed paper cross over the top of the first cross and the shavings. An adult should complete the following step: Using a warm iron, press the two pieces of waxed paper together. Find a sunny spot to hang your creation and remember to offer a prayer of love and thanksgiving each time you lay eyes on your beautiful cross.




For additional ideas on how to celebrate Lent and Easter, visit www.catholicmom.com.



Food Fun and Facts has over 900 pages of Recipes, Household Hints and Homemaking Information.

Use the Menu, or for a quick Search, use the Site Search Bar Below. Enjoy!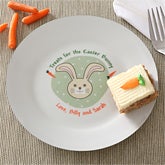 Personalized Easter Bunny & Carrot Plate
Make the memories eggstra-special with their own Treats For The Easter Bunny Carrot Plate!

Our exclusive design is custom personalized with their names so the Easter Bunny is certain to know who left the treats!

* Quality crafted of white porcelain. * Plate measures 7" dia.
Leaving carrots for the easter bunny is a memorable and time-honored childhood tradition little ones will love for years to come!
Order Soon! Only $18.95 and Great Reviews!

More Easter Activities for the Family


Easter Bunny Net

Bunnies at Easter

Ukrainian Egg.com

Easter Pages

Food Fun

Easter Recipes

---
What's on the Menu Today?

Allergy Recipes
Army Air Corp Photos WWII

Baking Tips
Beverages
Book Care and Repair
Children's Recipes
Chinese New Year
Christmas Entertaining Recipes
Cookbook Reviews
Cooking and Food Links
Cooking for a Large Group
Cooking Tips
Creative Holiday CookingCulinary History

Easter Information and Recipes
Easy Recipes
Entertaining Tips and Recipes

Fun with Food
Food Trivia
Free Stuff
Fun with Food
Halloween Fun
Herbal Remedies
Herbs and Spices
Household Hints

Kids Crafts and Recipes
Kids Links

Memorial Day Information

Nineteenth Century American Women
Nineteenth Century Advertising
Nutrition

Parenting Tips
Pet Goodies for Dogs, Cats and Birds

Recipes from the 1800's

Sewing Tips

Thanksgiving Recipes

Weather Page

Wine and Beer Information



Easter Brownie Fun - Hop To It!

Recipe for Easter Brownies



(Family Features) - Put a new spin on Easter; serve brownies in bunny and egg shapes,- an easy way to make a yummy impression.
Even Peter Cottontail would be proud to deliver these fudgy treats!

Simply bake a pan of brownies using your favorite mix or recipe. Cool completely, then smooth on fudge icing. Bunnies and eggs will practically hop out of the pan when you use comfort-grip cutters. These easy-grip stainless steel cutters have extra deep sides, perfect for cutting shapes from thick desserts like brownies, sheet cakes, fudge and crispy rice treats.

Decorate brownies using the pastel palette of the season. Create cute bunny faces by piping icing to make eyes, ears, muzzle and tongue. Finish the eyes with candy-coated chocolate pupils and add a jelly bean nose.

Brownie Bunnies will love sharing the Easter basket with colorful Egg-stra Special Brownies adorned with pink and blue sugar stripes and accents of confetti sprinkles. Everyone will look forward to these springtime treats in their baskets, so hop to it!




For more recipes and egg-cellent ideas or to order comfort grip cutters and decorating supplies, visit www.wilton.com Wilton Industries, Inc.








More Easter Recipes


Top 100 Cooking Sites





Back to Home Page Email Me! Copyright 1999-2011 Privacy Policy